.
Willard Christopher Smith naci? el 25 de septiembre de 1968 en Philadelphia, Pennsylvania (Estados Unidos), hijo de Willard, due?o de una empresa de refrigeraci?n, y de Caroline, trabajadora en un comit? escolar. Tiene un hermano, Harry. y dos hermanas, Pam y Ellen.
Comenz? su carrera como cantante de rap, ganando un premio Grammy. Form? parte del d?o D Jazzy Jeff & The Fresh Prince (junto a Jeff Townes).
Tuvo un gran ?xito protagonizando la serie de TV "El pr?ncipe de Bel Air" (1990-96) por la que fue nominado en dos ocasiones a los Globos de Oro y en la que intevino repetidamente Jazzy Jeff, con el personaje de Jazz.
Su interpretaci?n en la pel?cula "Al?" le report? nominaciones al Oscar y al Globo de Oro, que no gan?.
Will y Jada
Se ha casado en dos ocasiones. En 1992 con la actriz Sharee Zampino, con la que tuvo un hijo, Willard Christopher III, tambi?n llamado Trey. Se divorciaron en 1995.
En 1997 se cas? con la actriz Jada Pinkett Smith, con quien tiene a: Jaden Christopher Syre (1998) y Willow Camille Reign (2000).
Ha recibido su segunda nominaci?n al Oscar (de nuevo sin conseguirlo) por "En busca de la felicidad", donde trabaja con su hijo Jaden.
Will y Jaden Smith en "The Pursuit of Happyness"
En abril de 2007 ha desbancado a actores como Tom Cruise y Tom Hanks de los primeros lugares de las listas de recaudaciones. Se dice que actualmente es el ?nico actor con un ?xito de taquilla asegurado en el primer fin de semana de estreno de cualquiera de sus pel?culas.
Est? rodando una nueva versi?n de la novela de Richard Matheson "Soy Leyenda".
Will Smith en una foto de "Soy Leyenda"
Consultar filmograf?a actualizada en
Imdb
Filmograf?a:
# Time Share (2008) (anunciada)
# Soy leyenda -I Am Legend (2007) (pre producci?n) .... Neville
# Tonight, He Comes (2007) (pre producci?n)
# En Busca de la Felicidad - The Pursuit of Happyness (2006) .... Christopher Gardner
#
Hitch, especialista en ligues
- Hitch (2005) .... Alex 'Hitch' Hitchens
#
Yo, Robot
- I, Robot (2004) .... Del Spooner
# 2 Polic?as Rebeldes II - Bad Boys II (2003) .... Detective Mike Lowrey
#
Hombres de negro II
- Men in Black II (2002) .... Agent Jay
# Ali (2001) .... Cassius Clay/Cassius X/Muhammad Ali
# La Leyenda de Bagger Vance - The Legend of Bagger Vance (2000) .... Bagger Vance
# Men in Black Alien Attack (2000) .... Agent J
# Wild Wild West (1999) .... Capt. James West
# Enemigo p?blico - Enemy of the State (1998) .... Robert Clayton Dean
# Men in Black (1997) .... James Edwards/Agent J (Jay)/"Slick"
# Independence Day (1996) .... Captain Steven 'Steve' Hiller
# 2 Polic?as Rebeldes - Bad Boys (1995) .... Det. Mike Lowrey
# Seis grados de separaci?n - Six Degrees of Separation (1993) .... Paul
# Made in America (1993) .... Tea Cake Walters, Zora's Boyfriend
# Where the Day Takes You (1992) .... Manny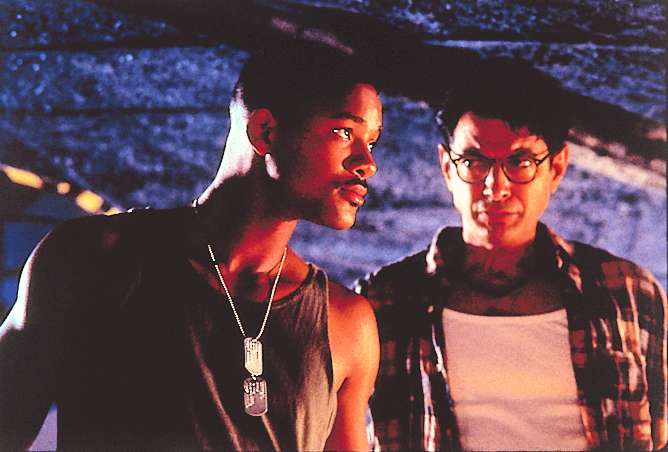 Con
Jeff Goldblum
salvando el mundo en "Independence Day"
TV
# "Never Before Scene" - Episodio: I, Robot (2004).... Guest
# "All of Us" Episodios:
- Johnny Come Lately: Parte 1 (2004).... Johnny
- Johnny Come Lately: Parte 2 (2004).... Johnny
- Johnny Comes Home Marching (2003) .... Johnny
# "The Fresh Prince of Bel-Air" .... William 'Will' Smith
# "Blossom" Episodio: - I'm with the Band (1991) (no acreditado) .... Fresh Prince
# The Perfect Date (1990)
#"Saturday Morning Videos" (1990) Serie .... Host
Voz
# El espantatiburones - Shark Tale (2004) ... Oscar
"Happily Ever After: Fairy Tales for Every Child" Serie ... Pinocchio
Will Smith
***